Kavanagh Men's Scarf. Stony Grey – Fintown
Designed with the modern man in mind, this scarf is handcrafted in the heart of County Monaghan using the finest materials and traditional techniques of weaving and finishing. It is easy to wear, made with Donegal wool, soft yet durable.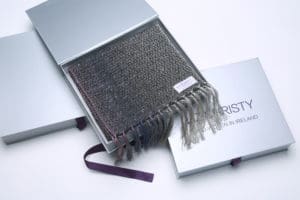 A men's hand woven scarf is the perfect gift for occasions like Father's Day or Christmas.
50% Donegal Tweed Wool 50% Fine Cotton
160cm in length
Gift Boxed
Free Shipping